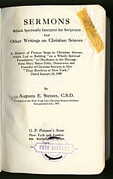 Sermons Which Spiritually Interpret the Scriptures . . . (etc) by Augusta E. Stetson, C.S.D., FIRST EDITION, published in 1924 by G. P. Putnam's Sons, New York and London. Gold-titled and decorated hard covers, 1277 pages of text + 65 pages of introductory notes, etc. plus 12 lovely illustrations, some in color, and all with transluscent protective tissue. Book is 8-1/8 by 5-1/4 inches (20.7 by 13.2 cm) by 1-1/4 inches (3.2 cm) thick.
This book can be identified by unique damage and marks on the title page.
MISSING or STOLEN from the Los Angeles Post Office on or after February 27, 2004.
Click here for details and full-size scans.